Review Article
Open Access
Future possibilities in migraine genetics
Laura Aviaja Rudkjobing

1

Email author

,

Ann-Louise Esserlind

1 and

Jes Olesen

1
The Journal of Headache and Pain
2012
13:481
Received: 19 June 2012
Accepted: 25 August 2012
Published: 7 September 2012
Abstract
Migraine with and without aura (MA and MO, respectively) have a strong genetic basis. Different approaches using linkage-, candidate gene- and genome-wide association studies have been explored, yielding limited results. This may indicate that the genetic component in migraine is due to rare variants; capturing these will require more detailed sequencing in order to be discovered. Next-generation sequencing (NGS) techniques such as whole exome and whole genome sequencing have been successful in finding genes in especially monogenic disorders. As the molecular genetics research progresses, the technology will follow, rendering these approaches more applicable in the search for causative migraine genes in MO and MA. To date, no studies using NGS in migraine genetics have been published. In order to gain insight into the future possibilities of migraine genetics, we have looked at NGS studies in other diseases and have interviewed three experts in the field of genetics and complex traits. The experts' ideas suggest that the preferred NGS approach depends on the expected effect size and the frequency of the variants of interest. Family-specific variants can be found by sequencing a small number of individuals, while a large number of unrelated cases are needed to find common and rare variants. NGS is currently hampered by high cost and technical problems concurrent with analyzing large amounts of data generated, especially by whole genome sequencing. As genome-wide association chips, exome sequencing and whole genome sequencing gradually become more affordable, these approaches will be used on a larger scale. This may reveal new risk variants in migraine which may offer previously unsuspected biological insights.
Keywords
GeneticsMigraineMigraine with auraNext-generation sequencingGWASExome sequencing
Introduction
Migraine is an episodic and disabling neurological disorder affecting roughly 14 % of the population [1]. The two most prevalent forms are migraine without aura (MO) and migraine with aura (MA) [2]. Migraine tends to run in families and has a strong genetic basis, with heritability estimates of 40–57 % [3–5]. In the rare monogenic subtype of migraine, familial hemiplegic migraine (FHM), three causative genes have been identified [6–8]. There is, however, no significant association between these genes and MO and/or MA [9]. Many linkage studies and candidate gene studies have suggested causative genes in MO and MA, but few have been replicated. Recent attempts using genome-wide association studies (GWAS) have yielded four single nucleotide polymorphisms (SNPs) that are significantly associated with migraine and recently, three additional SNPs have shown convincing association as well [10–12]. Nevertheless, only a small part of the genetic background of MA and MO has been established. This lack of success in migraine genetics depends on several factors: the heterogeneity of the migraine disease, the lack of a quantitative phenotype and the fact that not all variants associated with migraine have been discovered. There may also be rare variants which cannot be captured by the methods used so far [13, 14].
The field of molecular genetics is developing rapidly and may now have reached a point where gene finding problems can be overcome in MO and MA. The most important new methods that are relevant for MO and MA are commonly termed next-generation sequencing (NGS). Explicitly, NGS consists of whole exome sequencing (WES) and whole genome sequencing (WGS). To date, no studies using NGS methods in studies of migraine have been published.
The aim of the present study is, in the first part, to give a brief overview of the current knowledge of migraine genetics, and to introduce the new emerging molecular genetics techniques and their use in future genetic migraine research. This study does not provide a systematic review or a complete overview of the existing literature, as others have recently done this. The second part of our study is based on interviews with three genetic experts, because the genetic field is developing much faster than the literature. The experts offer their perspectives on the future of migraine genetics and we present here a summary of their main ideas.
Background and overview of previous genetic migraine studies
The experts' perspective
Migraine genetic research has shown to be challenging. A mix of different techniques and approaches are required to solve the genetic questions. First, an important factor to consider when looking at migraine is the effect size of the causative variants. In familial migraine, the effect size will be high but in sporadic migraine, the effect size will be smaller. It is not clear, how big an effect size is required in order to define familial migraine. The study design depends on the effect size of the variants of interest. GWAS finds common variants (with a population frequency down to 5 %) with relatively small effect size and requires a large number of unrelated cases to provide significant results, whereas exome sequencing and WGS might be more suitable in capturing rare variants with a high effect size by sequencing a small numbers of individuals (Fig.
1
).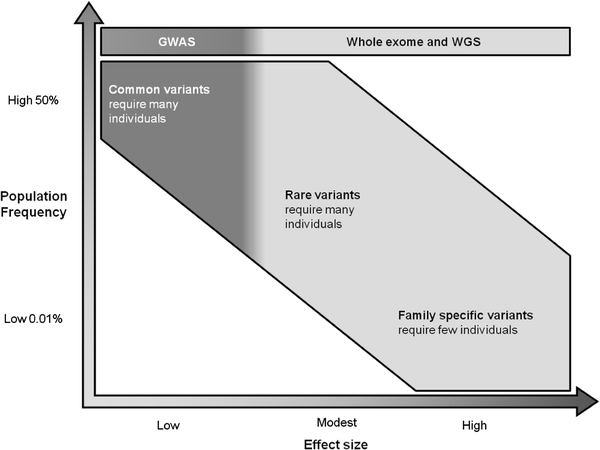 It is possible to combine the different approaches by the imputation of WGS data into pedigrees where GWAS data are already known. This method is especially well-suited in Iceland due to its founder population characterized by long haplotypes (a set of SNPs that tend to be inherited together), and the availability of extensive genealogy information of its inhabitants in the large pedigree database "Íslendingabók". Furthermore, in Iceland GWAS has already been completed on tens of thousands of inhabitants using a chip containing approximately 600.000 variants. Some of the genotyped Icelanders have undergone a mid-depth WGS, and a haplotype can then be created by imputing the WGS data into the chip-genotyped information. Such founder populations are ideal for the purpose of finding mutations. The discovered mutation can afterwards be investigated for a disease-causing role in more outbred populations.
In regard to familial migraine molecular genetics, studies performed successfully in other complex disorders (e.g., familial diabetes or obesity) may be a source of inspiration for future migraine genetic research. In familial disease, exome sequencing has been performed in the person with the disease, the parents (where one is affected and the other parent is not) and another distantly related affected person. With this design, the mutation is assumed to be autosomal dominant. After the exomes of these four cases have been sequenced, many individual variants are expected to be found. The next step is to reduce the number of variants by filtering. The first filters applied are variants taken from the HapMap (a database cataloguing all known SNPs in the human genome [
42
]) or the 1000 Genome Project, since these variants are not associated with severe disease phenotypes. The next filter is population-specific exome data, because some variants occur only in certain sub-populations and are not disease-causing. After filtering, the remaining variants may be reduced to a few family-specific variants, which are thereafter tested for segregation within the whole family. The idea is that the affected family members should have the variant(s), while it should be absent in the healthy family members. In the end, this approach will yield a few or at best one variant. The process is summarized in Fig.
2
. Using this design, it may suffice to examine one big family with ten or more affected individuals. These variants are likely to be family-specific and will not be found by GWAS. In cases where no strongly associated variant is found, it is assumed that the variant is not located in the coding regions, and these families become suitable candidates for WGS, when this method becomes more available.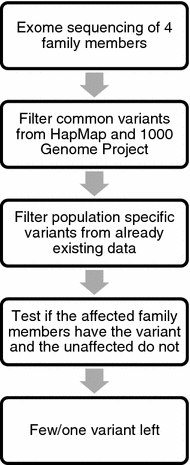 The use of WES and WGS is still not without its limitations, such as high error rates and challenges in analyzing data. However, in the genetic research of psychiatric disorders, it has been possible to avoid the analysis problems by focusing on a specific region. One vulnerable area associated with a wide spectrum of psychiatric conditions has been identified and WGS focusing on this area only is being carried out. This strategy requires a pre-existing knowledge of a locus of interest which currently does not exist in migraine.
While the focus has been on the novel sequencing techniques, GWAS has expanded its use and possibilities with new chips containing more SNPs. This is referred to as next-generation GWAS [43]. With this approach, variants down to a population frequency of 1 % are found. Due to the large number of SNPs tested simultaneously in GWAS, the usual statistical level of 0.05 is too lenient and will result in thousands of false positive results. Therefore, the genome-wide significant level is set at 5 × 10−8, which is based on the testing of 1 million SNPs [44]. In rare variants, however, less than 1 % of the population carries the variant and it may therefore be necessary to test even more SNPs, requiring the genome-wide significance threshold to be lowered to at least 5 × 10−9. Thus, large sample sizes and collaboration between multiple research centers in consortia will be necessary.
All the mentioned approaches can be applied to migraine according to the effect size of the variants of interest. WES and WGS will be suitable in finding family-specific migraine variants, while the next-generation GWAS will be the best method in sporadic migraine cases. Currently, it is feasible to perform WES or WGS in familial migraine cases by testing if the identified variants segregate in the family. The findings should thereafter be replicated in other migraine families. Results from founder populations might give valuable insights and inspiration for future migraine genetic research. Combining all the results from common, rare and family-specific variants will greatly improve our knowledge and understanding of the migraine disease.
The NGS may explain some of the missing heritability, but part of the heritability is likely to be explained by other mechanisms such as gene–gene interactions, gene–environment interactions and epigenetics (changes in the disease or in the gene expression caused by mechanisms other than changes in the underlying DNA sequence [45]). These factors may play a role, but the mechanisms still need to be understood, which cannot be done by sequencing alone. The epigenetic factor is mentioned in a recent review by Bras et al., where speculations about the role of methylation of the genome are raised, as well as the role of gene–environment interactions. Bras et al. [33] underline the need of simultaneous study of DNA, RNA and protein to completely understand the genetic background of disease mechanisms.
Conclusion
We have presented a brief overview of the genetic literature and interviewed genetic experts. The future of migraine genetics has a lot of potential. As genome-wide association chips, exome sequencing and WGS become more affordable, these techniques will be used on a larger scale. This may reveal new risk variants in migraine and offer new pathophysiological insights.
Declarations
Acknowledgments
We wish to thank the experts in genetics: Professor MD, PhD Torben Hansen from the Novo Nordisk Foundation Center for Basic Metabolic Research. Cand. Scient., Ph.D., Post. Doc Thomas Hansen from the Danish Psychiatric Biobank and Cand. Scient., Ph.D., Hreinn Stefansson from DeCODE Genetics, Iceland.
Conflict of interest
None.
Open Access
This article is distributed under the terms of the Creative Commons Attribution License which permits any use, distribution, and reproduction in any medium, provided the original author(s) and the source are credited.
Authors' Affiliations
(1)
Danish Headache Center, Glostrup Hospital, Glostrup, Denmark