Review article
Open Access
Cortical spreading depression as a target for anti-migraine agents
The Journal of Headache and Pain
2013
14:62
Received: 5 June 2013
Accepted: 8 July 2013
Published: 23 July 2013
Abstract
Spreading depression (SD) is a slowly propagating wave of neuronal and glial depolarization lasting a few minutes, that can develop within the cerebral cortex or other brain areas after electrical, mechanical or chemical depolarizing stimulations. Cortical SD (CSD) is considered the neurophysiological correlate of migraine aura. It is characterized by massive increases in both extracellular K+ and glutamate, as well as rises in intracellular Na+ and Ca2+. These ionic shifts produce slow direct current (DC) potential shifts that can be recorded extracellularly. Moreover, CSD is associated with changes in cortical parenchymal blood flow.
CSD has been shown to be a common therapeutic target for currently prescribed migraine prophylactic drugs. Yet, no effects have been observed for the antiepileptic drugs carbamazepine and oxcarbazepine, consistent with their lack of efficacy on migraine. Some molecules of interest for migraine have been tested for their effect on CSD. Specifically, blocking CSD may play an enabling role for novel benzopyran derivative tonabersat in preventing migraine with aura. Additionally, calcitonin gene-related peptide (CGRP) antagonists have been recently reported to inhibit CSD, suggesting the contribution of CGRP receptor activation to the initiation and maintenance of CSD not only at the classic vascular sites, but also at a central neuronal level. Understanding what may be lying behind this contribution, would add further insights into the mechanisms of actions for "gepants", which may be pivotal for the effectiveness of these drugs as anti-migraine agents.
CSD models are useful tools for testing current and novel prophylactic drugs, providing knowledge on mechanisms of action relevant for migraine.
Keywords
Cortical spreading depressionCalcium channelsSodium channelsGlutamateIonotropic glutamate receptorsCalcitonin gene-related peptidesCurrent prophylactic drugsAntiepilepticsTonabersatGepants
Introduction
Spreading depression (SD) is an intense self-propagating wave of depolarization involving neuronal and glial cells in the cerebral cortex, subcortical gray matter or retina, irrespective of functional divisions or arterial territories. This depolarization is followed by a longer lasting wave of inhibition characterised by massive changes in ionic concentrations and slow chemical waves, propagating at a rate of approximately 3–6 mm/min [1]. In both lissencephalic and gyrencephalic cortices, SD can be evoked pharmacologically by the application of K+, glutamate, and Na+/K+-pump inhibitors or by either electrical or mechanical stimulation. SD can develop over the course of epileptic crises or can be induced by brain tissue injury, as in the case of trauma, hemorrhage or ischemia [2–6].
Several clinical and neuroimaging findings support the concept that cortical SD (CSD) is the pathophysiological correlate of the neurological symptoms in migraine aura [7–9]. Moreover, different experimental models of CSD have been developed which help to better understand the underlying neuronal mechanisms and related vascular changes [10, 11]. They also, albeit not consistently, suggest that CSD is able to activate central and peripheral trigemino-vascular nociceptive pathways with a latency matching, generally occurring between aura and headache in migraineurs [12].
Familial Hemiplegic Migraine 1 (FHM1) and 2 (FHM2) mutations share the ability to facilitate the induction and propagation of CSD in mouse models, further supporting the role of CSD as a key migraine trigger [13]. CSD is further modulated by endogenous and environmental factors, such as hormones and drugs, and also might be influenced by weather, stress and food [14–16]. Current prophylactic treatments have been investigated for their effects on CSD. Novel drugs can also target CSD and this can account, at least in part, for their mechanisms of action on migraine [17].
Review
In this review, we illustrate the main findings concerning basic mechanisms underlying CSD as neurophysiologic substrate of aura and report results on the effects on CSD from available drugs and new therapeutic options.
Conclusions
A number of mechanisms have been shown to have a role in fostering CSD wave initiation and propagation including: ion diffusion, membrane ionic currents, osmotic effects, spatial buffering, neurotransmitter substances, gap junctions, metabolic pumps, and synaptic connections (Figure
1
).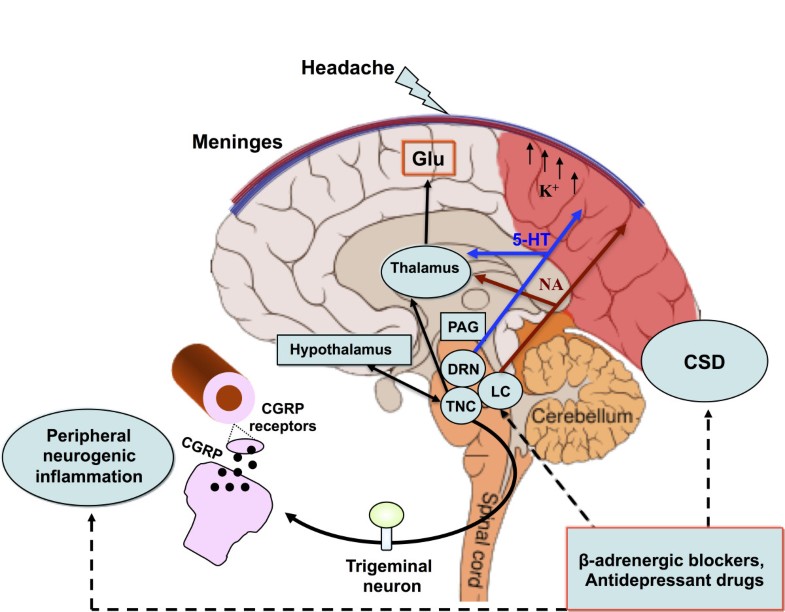 In spite of this knowledge, CSD remains an enigma necessitating further theoretical investigations.
Experimental findings to date suggest that chronic daily administration of certain migraine prophylactic drugs (topiramate, valproate, propranolol, amitryptiline, and methysergide) dose-dependently suppress CSD. At a molecular level, targets of the inhibitory effects of antiepileptic drugs tested exert their inhibitory effects on CSD targeting Ca
2+
and Na
2+
channels, as well as glutamatergic and/or GABAergic transmissions based on their mechanisms of action. Additionally, the antiepileptic drug lamotrigine has a proven suppressive effect on CSD, which could explain its selective action on migraine aura. Preservation of 5-HT, and maybe even NA neurotrasmission in the cortex, could in some way be responsible for the effects of amitryptiline on CSD, while beta-adrenergic blockage by propranolol might facilitate a reduction in cortical neuronal excitability and thus in turn reduce susceptibility to CSD (Figure
2
).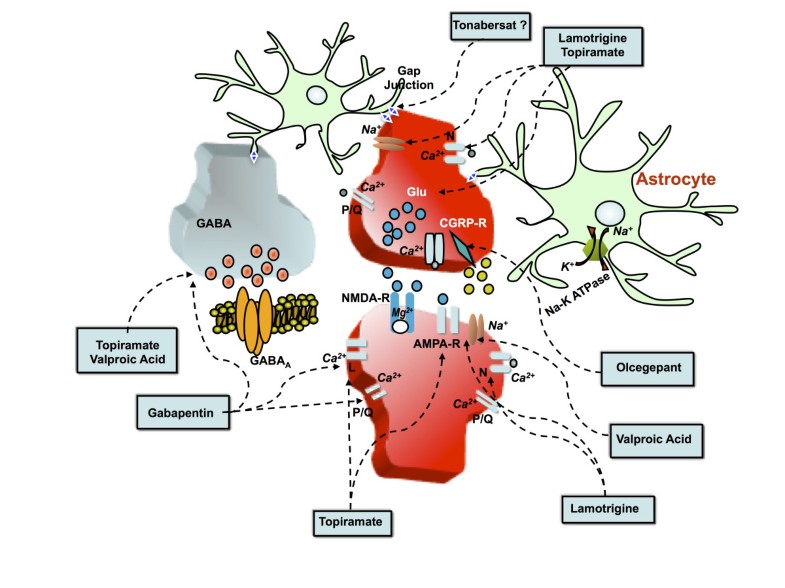 Mechanisms of action for some novel molecules are currently under investigation. To date, it has been found that CGRP-R antagonists exert a dose-dependent inhibitory effect on CSD. For this reason, it can be hypothesized that CGRP plays a determining role in CSD and its modulation may be effective for the preventive treatment of MwA (Figure 2). Additionally, tonabersat, a novel benzopyran compound, has been reported to exert an inhibitory action on CSD and on neurogenic inflammation in animal models of migraine. These inhibitory actions might be an effect of the blockage of neuronal-glial cell gap-junctions, as it has only been demonstrated to be for the trigeminal ganglion. The most significant anti-migraine action on the part of tonabersat seems to derive from its inhibitory action on CSD. In fact, clinical trials on tonabersat have shown its preventive effect on MwA attacks but not on MwoA attacks.
Based on recent clinical findings, intranasal ketamine, has been shown to be effective in CSD models, and therefore it has been administered for cases of migraine with prolonged aura, but its use is limited due to its relevant side effects. Noteworthy, the effectiveness of ketamine adds to the existing evidence that glutamatergic transmission plays a role in human aura. The proven capacities of other molecules (i.e. amiloride) in blocking CSD suggests that they might also have a role in preventing MwA.
Further investigations on molecules with evidence of targeting CSD not only would lead to a better understanding of the underlying mechanisms for CSD, but also supply meaningful insight into their potential roles in MwA, as well as other diseases, such as epilepsy, ischemic stroke, intracranial hemorrhage, and trauma, where CSD is thought to be a pathogenic mechanism.
Abbreviations
5-HT:

5-hydroxytryptamine, serotonin
AMPA:

Alpha-amino-3-hydroxy-5-methyl-4-isoxazole propionate
AMPA-R:

Alpha-amino-3-hydroxy-5-methyl-4-isoxazole propionate receptor
ATP:

Adenosine-5'-triphosphate
ATP1A2:

ATPase, Na+/K+ transporting, alpha 2 (+) polypeptide
BBB:

Blood–brain barrier
BOLD:

Blood oxygenation level dependent
Ca2+:

Calcium
CACNA:

Ca2+ channel alpha 1A
CADASIL:

Cerebral autosomal dominant arteriopathy with subcortical infarcts and leukoencephalopathy
CBFLDF:

Cortical blood flow laser Doppler flowmetry
CGRP:

Calcitonin gene-related peptide
COX:

Cyclooxygenase
CSD:

Cortical spreading depression
CSF:

Cerebrospinal fluid
DC:

Direct current
DEA:

(N,N-diethylamino)-diazenolate-2-oxide
DHE:

Dihydroergotamine
EEG:

Electroencephalographic
ET-1:

Endothelin-1
FHM:

Familial Hemyplegic migraine
fMRI:

Functional magnetic resonance imaging
GABA:

Gamma-aminobutyric acid
GABA-R:

Gamma-aminobutyric acid receptor
Gd-DTPA:

Gadolinium-diethylenetriaminepenta-acetic acid
HMGB1:

High-mobility group box 1
IL-1β:

Interleukin-1 β
iNOS:

Inducible NO synthase
K+:

Potassium
KCl:

Potassium chloride
KI:

Knockin
L-NAME:

L-NG-Nitroarginine Methyl Ester
MEG:

Magnetoelectroencephalography
Mg2+:

Magnesium
MMP(s):

Metalloprotease(s)
MR:

Magnetic resonance
MwA:

Migraine with aura
MwoA:

Migraine without aura
Na+:

Sodium
NA:

Noradrenalin
NMDA-R:

N-methyl- D-aspartate receptor
NO:

Nitric oxide
NOLAG:

NO-nitro-L-arginine
NOS:

NO synthase
OIS:

Optical intrinsic signal
Panx1:

Pannexin1
PET:

Positron Emission Tomography
PHS:

Propofol hemisuccinate
PLC:

Phospholipase C
SCN1A:

Sodium channel, voltage-gated, type I, alpha subunit
SD:

Spreading depression
SPECT:

Single-photon emission computed tomography
THC:

Tetrahydrocannabinol
TPM:

Topiramate
TRPV1:

Transient receptor potential cation channel subfamily V member 1
TTX:

Tetrodotoxin
WMLs:

White matter lesions.
Declarations
Acknowledgements
We thank Mr. Thomas Kilcline for editing the English. This Review Article will be presented at the XXVII National Congress of the Italian Society for the Study of Headaches – 26–28 September 2013.
Authors' Affiliations
(1)
Neurologic Clinic, Department of Public Health and Medical and Surgical Specialties, University of Perugia, Ospedale Santa Maria della Misericordia, Sant'Andrea delle Fratte, Perugia, Italy
(2)
Neurology II, Department of Neuroscience, University of Torino, Ospedale Molinette, Turin, Italy
(3)
Fondazione Santa Lucia I.R.C.C.S., Via del Fosso di Fiorano, Rome, Italy
(4)
Neurovascular Research Lab., Department of Radiology, Stroke Service and Neuroscience Intensive Unit Department of Neurology Massachusetts Hospital, Harvard Medical School, Boston, USA
(5)
Neurologic Clinic, Ospedale S. Eugenio, Piazzale Umanesimo, Rome, Italy
Copyright
© Costa et al.; licensee Springer. 2013
This article is published under license to BioMed Central Ltd. This is an Open Access article distributed under the terms of the Creative Commons Attribution License (http://creativecommons.org/licenses/by/2.0), which permits unrestricted use, distribution, and reproduction in any medium, provided the original work is properly cited.